A Herding Legacy
"But should you, while wandering in the wild sheepland about the twin Pikes, happen on moor or in market upon a very perfect gentle knight clothed in dark grey habit, splashed here and there with rays of moon; free by right divine of the guild of gentlemen, strenuous as a prince, lithe as a rowan, graceful as a girl, with high king-carriage, motions and manners of a fairy queen; should he have a noble breadth of brow, an air of still strength born of right confidence, all unassuming; last, and most unfailing test of all, should you look into two snowcloud eyes, calm, wistful, inscrutable, their soft depths clothed on with eternal sadness - yearning, as is said, for the soul that is not theirs - know then, you look upon one of the line of most illustrious sheep-dogs of the North....."excerpt from "Owd Bob" by Alfred Ollivant.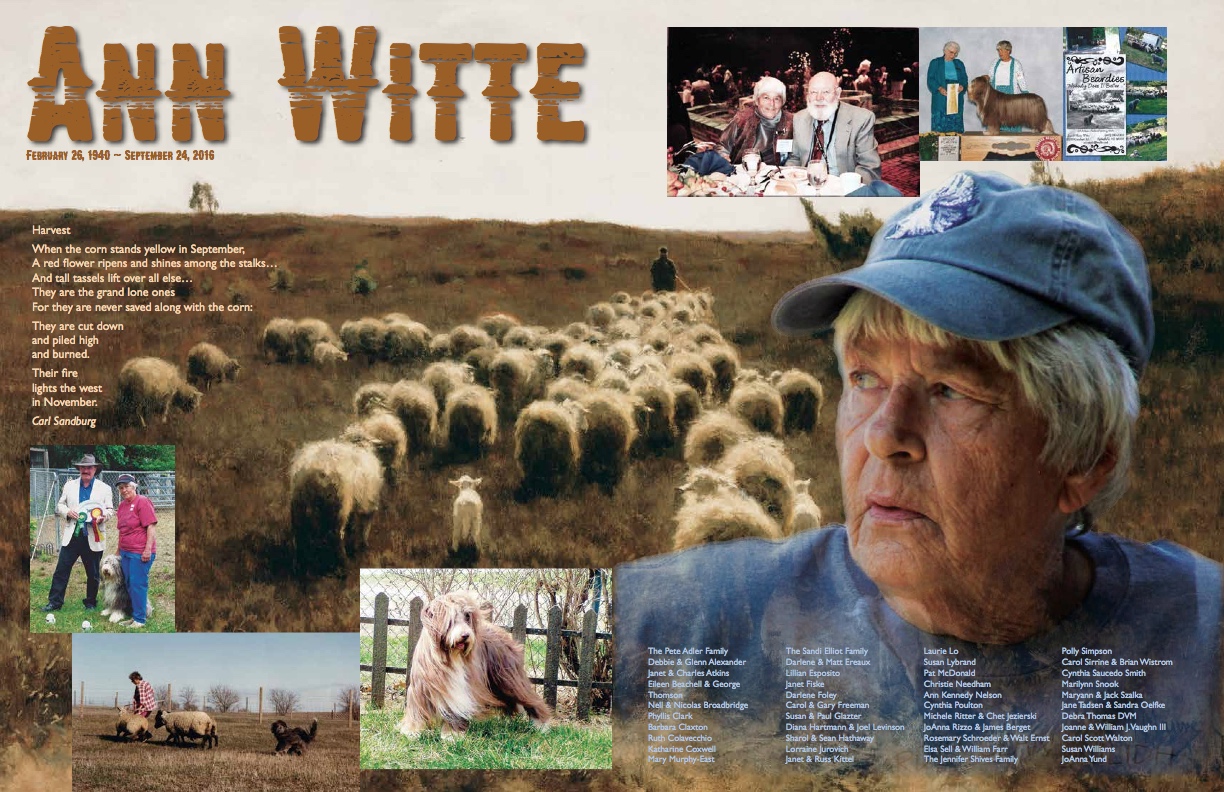 It is with great sadness that we announce the sudden, and unexpected passing of Ann Witte. Ann passed away in the early hours of September 24, 2016. Ann was a great mentor, friend, supporter, and founder of the Great Plains Bearded Collie Club. Her passion for the breed and their intended purpose of herding was a driving force in her life for decades. She founded the club and established a herding facility at her farm in Springfield, Nebraska for all members to utilize to work stock with their bearded collies. Under her leadership, the GPBCC held numerous clinics, over 100 trials, produced two dvd's on herding and fostered an environment to champion herding with bearded collies. Ann's husband, Harry Witte, passed away on January 24, 2017. Harry was a member of the BCCA since 1979. Ann and Harry were a team both in the show ring and as leaders that helped shaped the BCCA, GPBCC, and the herding community. At one point, their dog Cooper was the most titled bearded collie in the world. We will miss them.
Welcome to the Great Plains Bearded Collie Club - home of the Herding Beardie! Within these pages you can discover our beginnings, our activities, and the club's trials and annual clinic designed to help all Beardie lovers with herding and the enjoyment of this wonderful breed.
We are a small Club - that is, small in numbers - with a diverse membership of Beardie owners. We take pride in the quality of our Herding Trials each year, our efforts to protect the Bearded Collie, and special pride in having hosted the 2005 Bearded Collie Club of America National Specialty Events so successfully. With the theme of "A Pioneer Spirit", we were pleased to honor the true Pioneers of Beardies in America.
The Great Plains Bearded Collie Club hosted the 2017 Bearded Collie Club of America (BCCA) National Specialty which was held at the Purina Event Center in Gray Summit, MO.